Welcome
For information past, present & future on the city of Glasgow, Scotland, UK
Gearing up for M8 upgrade
THE first official step has been taken towards upgrading the missing stretch of
the M8 between Glasgow and Edinburgh.

More than 11 miles of the A8 dual carriageway is to be upgraded and the
Scottish Government has published a list of more than 340 plots of land it
intends to buy by Compulsory Purchase Order to ensure the project is
completed.

The work, stretching from the interchange at Baillieston, Glasgow, to
Newhouse, Lanarkshire, will cost between £170million and £210m and will
cover 840 acres.

Much of the land - 546 acres - was previously acquired through CPOs in
the mid-1990s. New orders will acquire another 294 acres needed to
provide drivers with three lanes in each direction - as well as a network of
new junctions for local roads.

The M8 is now such a vital commuter and business route that more than
70,000 vehicles a day use the road.

The route includes the Eurocentral complex at Mossend, Lanarkshire, which
is undergoing a £300m revamp to attract new businesses and jobs, while
close by the old Ravenscraig steel site at Motherwell.

Flyovers will lead drivers off the motorway to new junctions at Shawhead,
on the outskirts of Coatbridge, Eurocentral and Chapelhall.

Shawhead will have one new roundabout, Eurocentral will have two, while
a series of four roundabouts will be created at Chapelhall.

The Chapelhall Junction will be especially busy, taking traffic to and from
the former Ravenscraig steel site, which is being transformed into a mini
town, as well as industrial traffic to and from Newhouse.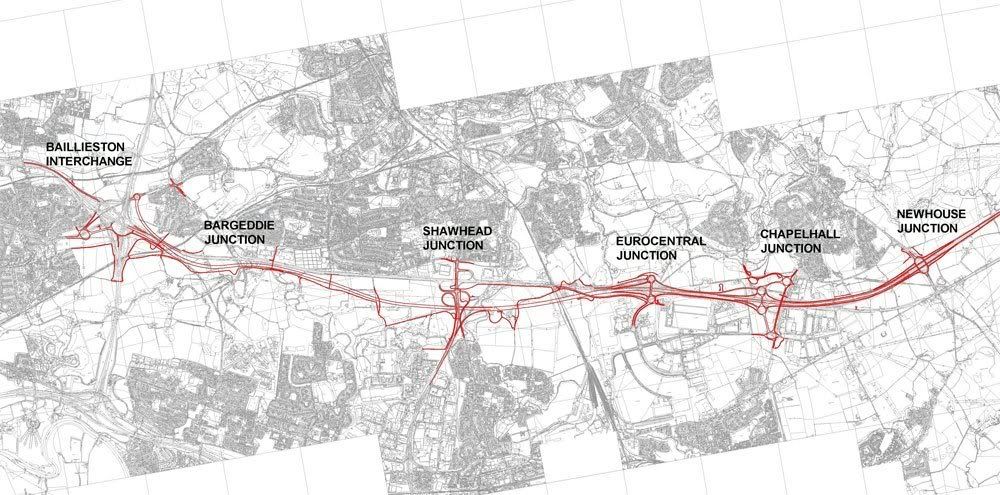 http://www.eveningtimes.co.uk/news/display.var.1831916.0.0.php




James H
Gearing up for M8 upgrade
Bloody hell just got over the rebuilding of the A8 section now this ....
Will be a great idea as the tailbacks wont be as long with 3 lanes for parking in rush hour...

Only real question i have is this was considered oh erm 5 years ago and was slated as not being cost effective.
So they rebuild it as this is more cost effective, Marvelous then decide nope what we need in that 11 miles stretch is motorway
that was not cost effective when we made the decision to rebuild but now that money is spent we need a motorway section !

Did i miss something.
Would it be politically incorrect to have built the bloody thing when they were ripping it up anyway.
Were they waiting on the influx of polish roadmenders before tackling such a bold double project.

Please remove my brain as i applied for a job at the Scottish Office earlier this month !!!



Perhaps i will get the
as compiled by Spike Milligan if i get a start !
Gearing up for M8 upgrade
M8 'missing link' will open a week ahead of schedule (© BBC)

The new section of the M8 is to open to traffic almost a week ahead of schedule.

The so-called missing link of Scotland's busiest motorway between Newhouse and Baillieston will open westbound on April
23. Transport secretary Keith Brown said the eastbound section was expected to open a week later.

It is the latest stage in the £500m M8 M73 and M74 motorway improvements project. Transport Scotland said the work
would cut journey times at peak times by around 20 minutes. Major diversions on the M8/A8 started in February while the
finishing touches were put to the new carriageway.

Transport Scotland said the diversion was needed to remove 13,000m² of existing carriageway and 40,000m³ of earth to
connect the new M8 to the existing M8, which is about 5m higher. Around 12,000 tonnes of blacktop then had to be laid to
complete the seven mile "missing link".


https://www.transport.gov.scot/me...way-route-newhouse-april-2017.pdf


James H
Gearing up for M8 upgrade
New M8 'missing link' to save drivers 20 minutes between Glasgow and Edinburgh (© Evening Times)




The M8's "missing link" is to open almost a week ahead of schedule chopping 20 minutes off drivers' commute.

Dubbed Scotland's "main street" by Keith Brown, the move will ease congestion and speed up journeys for millions of
commuters. The Cabinet Secretary for Economy, Jobs and Fair Work said the landmark opening on Sunday will help
transform travel between Glasgow and Edinburgh.

Praising the news the motorway will open five says early, Mr Brown said: "It's all credit to the contractors. Everybody
who lives locally or who uses the road will have seen hundreds of yellow jackets. It's been incredibly complex as well,
including putting up a new railway bridge, which is a push operation and extremely difficult but done well. And you can
see the quality of the roads produced here by the contractors under very difficult circumstances. The most difficult
improvements to make are those that are being done 'online' - they are having to keep roads running at the same
time and that has meant congestion for local people and for people using the routes but that's now coming to an end
and you'll see from next Sunday the road reopening bit by bit and phases of all the different roads affected by this will
be opening up."

The new M8, which runs from Newhouse to Baillieston, is part of a half a billion pound investment in the M8 M73 M74
Motorway Improvements Project. The westbound carriageway of the new M8 will open to traffic on Sunday April 23,
followed by the eastbound carriageway on Sunday April 30. The A8 will run alongside the M8 for local traffic, freeing
the motorway up for longer journeys. It is believed the new road will save drivers 20 minutes at peak time.

Mr Brown added: "Look at this road we're on now, the M8, three lanes going in each direction and the capacity is
dramatically increased. Also, you'll have 10 lanes if you take into account the A8, which will service local traffic. So a
huge increase in capacity and we should see some major improvements in terms of journey times and the experience
of people travelling on those roads. My partner lives in Bailleston so I do use this road a lot and have been aware of
the changing nature of the quite complicated work and I appreciate that. I'm from Edinburgh originally so this is a
road that's well used - though unfortunately Hibs haven't been getting through to many finals so it's not been as well
used recently."

A diversion of the A8/M8 was introuduced in mid-February to facilitate works connecting the new M8 Motorway into the
existing A8/M8 carriageway at Baillieston. Motorists are advised traffic management, including signed diversions and
temporary speed restrictions, will remain in place along the A8/M8 corridor to allow completion of several junctions,
including Shawhead and Eurocentral.

Graeme Reid, Transport Scotland Project Manager for the M8 M73 M74 Motorway Improvements Project, added: "While
the full benefits of the new M8 will not be realised until completion of all junctions and project roads, commuters
between Edinburgh and Glasgow should experience a vast improvement to their journeys between Newhouse and
Baillieston Interchange. When the new M8 opens, pressure on the A8 will ease, allowing the contractor to focus on
completing the upgrade of the existing A8 and linking it to the new all-purpose road, which is a continuation of the A8
at Eurocentral. Local road users should note that whilst access to all routes to and from the A8 will be maintained,
signed diversions for traffic to Coatbridge, Airdrie, Bargeddie and Bellshill will be in place until completion of the project.
I would urge road users to plan their journeys in advance using the Transport Scotland and Traffic Scotland websites."

The improvements, which include a new All Purpose Road between Newhouse and Baillieston separating local and
strategic traffic, is designed to reduce journey times during peak periods by up to 20 minutes. The Scottish
Government is working with Scottish Roads Partnership (SRP), along with funding from the European Investment
Bank and Allianz Global Investors, to deliver the infrastructure project linking the key arterial routes in Central Scotland.

SRP General Manager, Gabriel Valtueña-Ramos, said: "SRP is proud to have delivered this major and strategic
infrastructure project for Scotland in spring 2017, as originally announced. I would take this opportunity to thank both
our contractor Ferrovial Lagan Joint Venture for its efforts to make this possible and also to local communities and the
travelling public for their patience during the last three years."

The M8 M73 M74 Motorway Improvements Project is the first of a combined £1.7bn investment in construction being
delivered this financial year by Transport Scotland on Scotland's roads network on behalf of Scottish Ministers. Traffic
management layouts change regularly and road users are encouraged to check the Transport Scotland website and
the Traffic Scotland website for live updates: www.transportscotland.gov.scot and www.trafficscotland.org



James H
Gearing up for M8 upgrade
He can make the claims it will save 20 minutes off the journey all he wants but until its fully opened and turned into an even wider car park he is just blethering sh!te.

The usual bottle necks are still there and when the Kingston Bridge snags up again the queues will continue right into the North Lanarkshire Corridor almost to West Lothian same as usual. The real improvements are on the A725 at Raith ... From the bottom of Boggs Brae through the underpass and onwards to East Kilbride, Unfortunately short-sightedness means the two lanes bottlenose into one lane and still snare up due to traffic joining from the M74 when they had the space and time to put in a filtering lane.

Add the fact into the mix that no one seems to have a bloody clue where the roads are going or what lane to be in due to bad signage and they have completed the task of simplifying road travel in Scotland.

By forcing us to take the train

Gearing up for M8 upgrade
Do the evening times never proof read their articles? They're worse than STVs twitter account